02.05.–16.05.2009
Julian Rosefeldt
"American Night"
Solo exhibition at Arndt & Partner, Berlin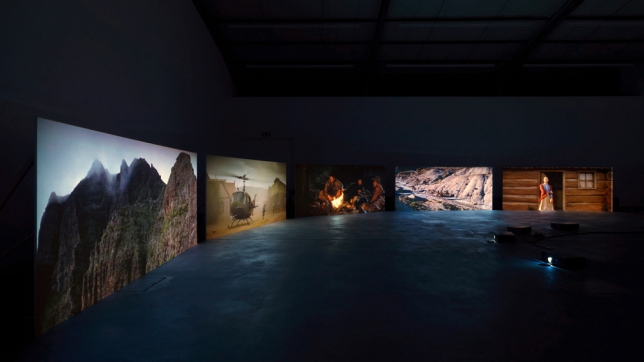 PRESS RELEASE
During the Gallery Weekend Berlin we will be presenting a sneak preview of American Night by Julian Rosefeldt. The five-channel film installation is one of the biggest and most complex works to date by the Berlin-based artist, who has made a name for himself with lavishly produced films projected onto several screens to create a panorama-like effect. The German museum premiere of American Night, which was filmed in southern Spain and the Canary Islands, will take place as part of an extensive solo exhibition of Rosefeldt's work at the Kunstmuseum Bonn this fall.
In what are probably his best known film installations, Trilogie des Scheiterns (Trilogy of Failure, 2004-2005), Rosefeldt dealt with more universal themes like the absurdity of human existence, approaching them with slapstick humour and plumbing their deeper philosophical meaning. American Night takes on decidedly more political issues: Using the stylistic devices of the Western genre, he deconstructs the myth of the founding of America and relates it to the hegemonic ambitions of recent US foreign policy. This latest work, too, is rife with biting satirical humour. In a sequence projected onto the fourth screen, George W. Bush and Barack Obama appear as the protagonists in a puppet show performed in a saloon. The farce culminates with Obama fatally shooting Bush – much like the plot of a conventional Western, in which the establishment of a new, supposedly more civil order comes about through armed force. On another screen, five cowboys are gathered around a campfire, musing on the American conception of freedom, the right to bear arms and – stepping outside their roles for a moment of self-reflexivity – on the Western as a genre. Every sentence uttered during their conversation is a quotation; some are taken from films, others from song lyrics, still others from the mouths of prominent US politicians. Among those quoted are filmmakers Sam Peckinpah and Jean-Luc Godard, rapper 50 Cent as well as actor and NRA president Charlton Heston.
These somewhat boisterous sequences are framed by quiet, tableau-like scenes that transport the viewer to the stereotypical Wild West of a long bygone era. We see the deserted main street of a Western town where the only movement is the fluttering of a curtain in the wind or a tumbleweed rolling by. Another scene shows a cowboy riding through hilly countryside in blinding sunlight. After a while, though, the apparent familiarity of these images begins to unravel: The cowboy's ride ends in front of an endless ocean – a scene that breaks with the conventions of the Western and evokes the paintings of the German Romantic artist Caspar David Friedrich. The contemplative, melancholy cowboy staring at the sea is hard to reconcile with the familiar image of the rugged Western hero forever pressing forward into unknown territory. Events in the deserted Western movie set take an unexpected turn as well: In a comically absurd scene and winking reference to certain US foreign policy decisions, a helicopter lands and armed US troops rush out to occupy the town, as if it were Fallujah or Baghdad.
Another aspect that American Night shares with some of Rosefeldt's earlier installations is its complex interweaving of several dimensions of reality, a device he uses to expose the production process. Thus, as in The Soundmaker (Trilogy of Failure, Part 1, 2004), he has the camera zoom out so far in an extreme long shot that the film set comes into view. The action in Rosefeldt's film Lonely Planet (2006) took place on a Bollywood film set and in a cinema; similarly, the events in American Night play out on a theatre stage and a Western film set. The title American Night itself is a multiple reference: It alludes to the title of Francois Truffaut's La nuit américaine (1974), which in turn refers to the cinematographic technique Day for Night. Often employed in Westerns, it involves the use of special filters to allow "night scenes" to be shot during the day. Rosefeldt uses the technique as well, and much like Truffaut's film, which is about the making of another movie, his work is an homage to the medium of film and a reflection on the construction of fictional narratives using cinematographic and iconographic means.
Text by Kristin Rieber
Camera: Christoph Krauss
Production design: Ina Timmerberg
Costume design: Bina Daigeler
Puppetry: Suse Wächter
Editing: Heike Parplies
Production manager: Sandi Knape
Featuring: Priscilla Bergey, Maurice Brink, Jeff Burrell, Laura Cameron, Jeff Caster, Lisa Densem, Erik Hansen, Errol T. Harewood, Melissa Holroyd, Robert Kovacs, Grayson Millwood, Janaina Pessoa, Tammi von Sperber, Suse Wächter, Gavin Webber, Tim Williams, Jeff Wood, et al.
American Night was produced with support from the Second Biennial of the Canary Islands and the Kunstmuseum Bonn.
JULIAN ROSEFELDT
Born in Munich in 1965, Julian Rosefeldt lives and works in Berlin. He has had numerous solo exhibitions in galleries and art institutions in Asia, Europe and the US, e.g. at Phillips de Pury, New York (2007/08); Platform China Contemporary Art Institute, Beijing (2007); Kunst-Werke Berlin (2004); Hamburger Bahnhof, Berlin (2002); and the Herzliya Museum of Art, Tel Aviv (2001). He has also participated in many group exhibitions, including The Cinema Effect: Illusion, Reality and the Moving Image, Smithsonian – Hirshhorn Museum and Sculpture Garden, Washington DC (2008); Made in Germany, Kunstverein Hannover (2007); International Biennale of Contemporary Art, Prague (2005); the São Paolo Biennial (2004); and Deep Storage – Arsenale der Erinnerung (shown at Haus der Kunst, Munich and P.S.1 Contemporary Art Center, New York, among others, 1997–1999). His film Lonely Planet, for which he received the Filmstiftung NRW Award in the international competition of the KunstFilmBiennale Köln in 2007, will be shown at the Centre Georges Pompidou in Paris from 15 to 17 May 2009.