17.06.–19.07.2008
Susan Turcot
"bitumen, blood and the carbon climb"
Solo exhibition at Arndt & Partner, Berlin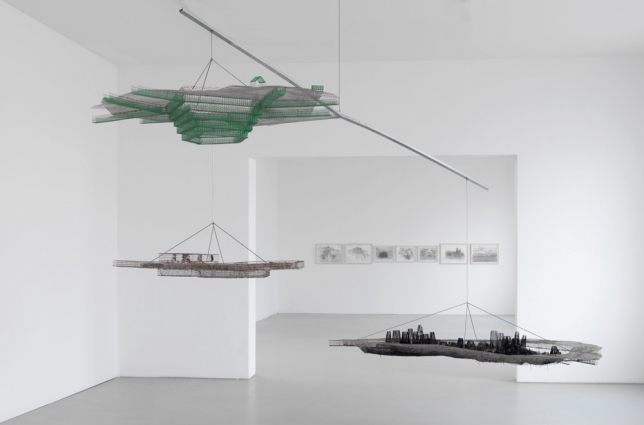 PRESS RELEASE
Arndt & Partner is happy to announce its second solo show of works by the Canadian artist Susan Turcot, entitled bitumen, blood and the carbon climb, consisting of drawings, sculptures, and an animated film.
Drawing has undergone an extraordinary development as an artistic means of expression. Today more than ever, drawings are descriptions of reality. They tell stories, record experience, help to explore perception, and recreate memory – they are maps of objects, movement, of space and ideas.
Susan Turcot's drawings engage with today's political, social, economic, and ecologic realities, such as the Palestinian-Israeli conflict, the exploitation of boreal forests in Canada, the conditions and effects of the world of labour, the life situation of indigenous people in northern Brazil, or the war in Iraq. Her works are however not just representations of the given, in the sense of a factual representation of events and places, but always also reflect the artist's reactions and thoughts about these realities; thus they are a kind of intuitive translation of her research and her experiences. There is no narrative structure in the serial works, but rather a simultaneity of events that seem frozen, like in snapshots. Similar to the process of a diary notation, for Turcot drawing is a way of recording observations and states, a commentary on the conditions of human life in the modern world. Her drawings are the carriers of multi-layered visual, factual, psychological, and philosophical information. At the same time, the works also reflect the process of drawing itself. Circular shadows above the eyes of portrayed people do not just imply their protection, but rather seem to pose fundamental questions about the process of seeing and perception, while the simultaneity of figurative details and abstract dissolution (such as in Divided Subjects) or drawing over certain areas with expressive lines or black surfaces, explore the possibilities of the act of drawing: reflection and directness, research method and psychic notation, controlled lines and impulsive energy. In a continuous process, the content is filtered through the exterior form – and vice versa.
All these aspects are also evident in the latest series, Faultline (2007). Ruins of buildings from classical antiquity rise from a formerly intact forest, revealing a strange procession inside. Threatening clouds tower over a terraced mountainscape, which in the front suddenly break off into an Orcus. People surround a machine, while in the background a threatening blackness rises. Fantastical buildings in torn, craggy landscapes, run through by holes and canyons. The dominant mood in these elegiac drawings is threatening, indeed dark – an almost apocalyptical vision of a world undergoing drastic changes. This series does not seem to be just about the representation of reality, but also the representation of mental landscapes. Both the drawings and their title are full of references to the relationship between man and nature. The English word 'fault' does not just mean lack or defect, but also guilt (in the sense of responsibility), and has also a geological meaning. Thus these drawings also show the possible consequences of the mistakes that we make ecologically, and simultaneously pose the question of our responsibility in our dealings with the world. 'The drawn line can be receptive for an inner knowledge that otherwise would remain out of reach. In the process of drawing, the form invents itself instead of being preconceived', Susan Turcot says. Thus her understanding of drawing stands in the art historical tradition of the ideal of the self-validating line (disegno interno) as the most apt possibility of intellectual articulation and artistic activity.
Barbara Heinrich
Born in 1966 in Montreal, Susan Turcot studied art and philosophy at Middlesex University in London. She lives and works in London, Québec, and Berlin. She has been regularly represented at group exhibitions and solo shows with Arndt & Partner since 1995. Additional solo shows took place at Galería Helga de Alvear, Madrid (2000), Galerie Ursula Walbröl, Düsseldorf, and Galeria Luisa Strina, São Paulo (both 2007), and most recently the show Drawings + Digital Animations at Illingworth Kerr Gallery | ACAD, Calagary. In 2006, she participated in the 27th São Paulo Biennale and in 2007 in the 5th Montréal Biennale. Currently her work is shown in the group exhibition Ad Absurdum – Energien des Absurden von der Klassischen Moderne zur Gegenwart, MARTa Herford – Museum für zeitgenössiche Kunst und Design, Herford (until 27 July 2008).